Somewhere Shoeless Joe Jackson is looking down (or up, if you think throwing a World Series is a hell-worthy offense) and smiling. In tonight's game between Marshall and Western Kentucky, Jarrod West of the Thundering Herd hit a three pointer in the final seconds of the first half to take the lead while wearing one shoe. These days, you could give me four shoes and I couldn't steal the ball and hit a three with as much grace as he showed, so I'm very impressed.
Has Jarrod been wearing the socks with grips on them that they give you at the hospital all season long just in case this happened? Maybe he's been barely tying his shoes all season waiting for this exact moment. You know, just like the kid that would try to get his helmet to fall off while rounding second base so he felt like a major leaguer. Either way, it was pretty damn impressive, and I say that as a guy that spent all day slipping on icy sidewalks and parking lots. If I can't walk 100ft without risking a broken tailbone, how did Jarrod West steal the ball, lose a shoe and hit a three right in my stupid, fat, ice slipping face? Maybe he's a better athlete than I am. I've never met the guy so I can't say for sure. Until that day comes and he proves he's the superior athlete, I'm gonna go with my original assumption that he's wearing performance enhancing hospital socks.
It's actually a genius move if you think about it. How hard is someone gonna D you up if you only have one shoe on? Nobody wants to be the guy that steps on your foot, or even worse, gets torched by a one-shoed man. It's best to just fall down and act like you slipped or switch to a different player on a phantom pick. The only thing that could stop Jarrod is the LEGO defense, and I refuse to believe the WKU players had pockets full of LEGOs. I doubt they have that in their Conference USA budget.
I'd be remiss if I didn't shout out IGA for still existing. I know of one IGA that's still in operation. Either they're still prevalent in Kentucky or the IGA I know of is bringing in enough cash to throw their logo on Western Kentucky's court.
I can't wait for super nerd Darren Rovell to use this clip as a plug for those self-lacing Nike shoes he's been aroused about for the past few weeks. Too bad the shoes couldn't help him out here.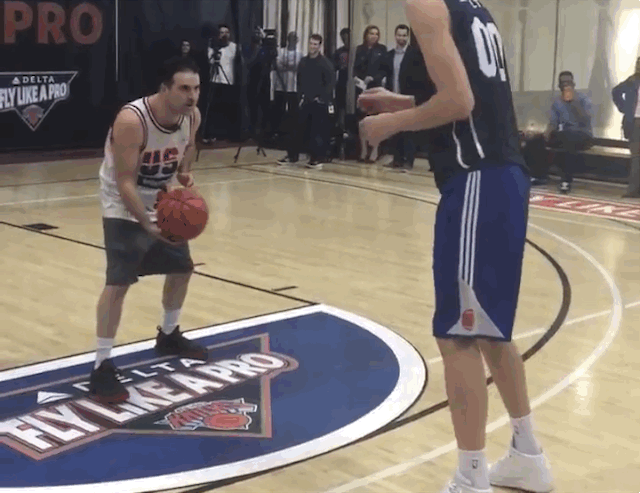 Follow @BennyMacBlog