Is it just me or does it seem like every year more and more of the NFL games are getting played in different venues or different countries? Don't fact check that, because there's a good chance I'm just grumpy and hate gimmicky stuff and this is how it's been for years. But it sure seems like the games overseas are growing by the year. It's great to grow the game, but at what point are we just going to have a game every single week over there? Oh, it's only four games? Well it started as one and now we're at four. Until the Jaguars get moved there full-time, I'd be willing to bet it keeps growing. I'm only partially joking about being annoyed, but losing 1/8th of your home games that are supposed to be a huge advantage is kinda a big deal if you're a fringe playoff team. I mean, we're not stealing a bunch of their EPL games or whatever the hell it is that people annoy me with on Twitter every Saturday morning. Why are they stealing our NFL games?
In the 2019 season, our Cincinnati Bengals will be taking on the possible defending Super Bowl Champion Los Angeles Rams across the pond. The story line should be pretty interesting heading into the game with current Rams QB coach Zac Taylor expected to take the head coaching position with Cincinnati. So we'll get a Zac Taylor vs. Sean McVay showdown in their first season apart after spending the last few seasons together on the Rams' sideline. That seems like it could be better fit for a Sunday night game; the perfect opportunity for Coach Taylor to win a prime time game against a quality opponent to prove he's not Marvin Lewis 2.0. Instead we'll have to watch it on Amazon Prime or something dumb at 9am.
The only good thing I like about this news is the fact that it's moving what would be a home game for the high powered Rams to a neutral site with a bunch of distractions with the dog and pony show that international games have become. The Bengals could have a shot to steal a win against an opponent they otherwise would have little chance to beat and keep all eight of their scheduled home games that will showcase a 60% full Paul Brown Stadium. Win-win.
I also find myself envious of the Londonites because they're gonna get to see what I would consider the best helmet match-up the NFL has to offer. Bengals stripes vs. Rams horns? Yes to the fucking please. They should get a good game, and when the day comes I probably won't be bitching as much because typically London games = early games. Now I'll just get to be pissed off and throw stuff before noon and still have the rest of the day to decompress.
Be prepared for me to use this GIF about a million times the week of the game as well. Don't say I didn't warn you.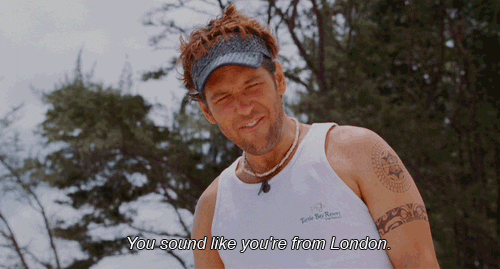 TL;DR- I kinda hate London games because it completely negates important home field advantage by stealing a home game from one of the teams, but I'm ok with it in this instance because it benefits the Bengals. Also, there's a high risk-reward scenario where the Bengals could make or break my day before noon.
Follow @BennyMacBlog