If you asked me to pick a song to describe 2005, it's gotta be "I'm Sprung" by T-Pain. It's not because that song spoke to me in any particular way, but it's because Jefe played it on a loop in the dorms at OU. I'm not gonna say the song isn't incredible, but I'm gonna say it's not quite as enjoyable on the 13th time through when you're waiting to leave for your 3pm accounting class.
After a while we just had to start finding humor in certain parts of the song and choreography of the video. You know, things like this sick chain whip by a 12-year-old that would've beat any of our asses. Any time I'm wearing anything around my neck, I try this 5-8 times until I successfully "whip dat chain" without hitting myself in the face.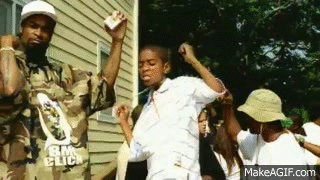 Or maybe moves like these:
If you think we weren't whipping out the "no no no *chest thump*" dance every night, you're fucking crazy. I'm pretty sure I still rock this move at least once a week nearly 15 years later.
How about you try the finger walking move on for size?
Now I'm leavin' quickly… Again, if you think I didn't pull this move and don't still do it to this day, you're crazy. I'm starting to realize how much Jefe playing this on loop shaped the rest of my life.
At least I've never tried this next move out in public, at least not when sober.
We call this the Pee-wee Herman, folks.
You can't really tell what's happening off screen, but if you listen to the song, it doesn't take a genius to figure out he's gesturing that he's horny, perhaps even jerking off; that's between T-Pain and our Lord and Savior.
Congrats to T-Pain for the future sex he's about to have with his side chick who he might turn into his main lady, all while wearing a wedding ring throughout the video. In writing this, I realize I owe T-Pain a great deal of gratitude for supplying me with nearly 1/3 of my dance moves, as sad as that may seem. I'll never thank Jefe for anything he's done, but I'd be lying if I said his song selection during our sophomore year in college wasn't a huge part of my life.
Happy Presidents Day, T-Pain. May you get all the drip you could ever imagine (the cool clothing slang word that I just learned and don't know how to use correctly, not Gonorrhea).
Follow @BennyMacBlog