Not good! Is it possible to feel terrible for Zion Williamson but at the same time want to dance on the graves of all the Duke fans that were already printing their championship t-shirts? Because that's where I'm at right now. I've been amazed by Zion Williamson all season long and despite his terrible choice of colleges, he seems like a good kid and someone I could find myself rooting for as soon as he sheds the Blue Devil jersey.
There's a chance that Zion's knee injury might not be that bad, but even if it was just a scare, he'd be crazy not to shut it down. He's 18 and has a long, successful NBA career ahead of him. Risking further injury or creating a problem that could put his rookie year in jeopardy would be completely unnecessary. You know, as unnecessary as forcing someone like him to go to college for one year before entering the NBA draft, but that's a thought for a different blog.
It's been a rough night for Duke, Duke fans and all the people who paid thousands of dollars per ticket for tonight's rivalry game against UNC. But nobody has had it as bad as Nike since the moment internet nerd Darren Rovell made it his mission to drag them through the mud.
Nike will be just fine, Darren. Just worry about how expensive the gourmet hot dog is at a stadium in Binghamton.
As a Duke hater, this is the scenario I'm hoping for: Zion will be just fine and this was nothing more than a scare, but he takes it as a warning sign that he should shut it down and prepare himself for the NBA, effectively ending Duke's title hopes. Then Phil Knight hands him $100 million in a brown paper bag to stuff Darren Rovell in a locker for trying to take down his brand over some fucking marathon runner's insoles and a freak accident.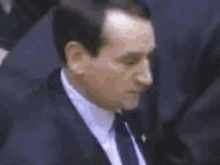 Follow @BennyMacBlog