You can call me a homer all you want, and you'd probably be right, but 2019 feels different than anything we've experienced in recent history for the Cincinnati Reds. Offseason trades that brought us Sonny Gray, Yasiel Puig, Matt Kemp, Alex Wood and Tanner Roark aren't something we're accustomed to in the Queen City. Usually we're just trying to figure out who in the hell is gonna be in our starting rotation, which first year player is gonna disappoint us and what bargain bin bench player will be viewed as the savior until about mid-April when we realize there's a reason nobody wanted to sign them. But not this year. No sirree. This year is the year of the Reds, and if half of my bold predictions come true, we're gonna have one hell of a summer in Cincinnati.
Nick Senzel will be misused and his rookie season will be viewed as a disaster by folks on Twitter
2019 hasn't started off the way Nick Senzel or Reds fans would have liked for the young slugger. It was well documented that Senzel would learn how to play center field throughout the offseason and spring training with every opportunity to earn a starting spot on the Opening Day roster. Well, that didn't happen. He performed as expected at the plate, but the people that make the decisions at 100 Joe Nuxhall Way didn't feel that his defense was quite ready for the big leagues and reassigned him to AAA Louisville before camp ended. And whatta ya know, Nick got hurt sliding into second base in a minor league spring training game almost immediately after the move. His sprained ankle will keep him out of commission for a few weeks and they'll assess his status when the walking boot comes off, but I'd be lying if I said I wasn't scared for how this whole saga has taken a turn for the worse already.
Assuming he's healthy and ready for a call-up at some point in the season, I'm sure there will be a lot of questionable decisions made in regards to his playing time. When the time comes, he should be playing every day and going about his business as such. Unfortunately, I feel like they're gonna end up platooning him in center field with Scott Schebler and effectively killing any shot he had at Rookie of the Year or putting up a stat line that will make this whole drawn out process seem worth it. I really hope it doesn't stunt his growth or development as a future All-Star in a Reds uniform, but with the way 2019 has started for Senzel, I'm expecting the worst, with absolutely 0% of the blame falling on Senzel himself.
Bonus points to me for already calling the total outrage on Twitter when Senzel isn't playing every day or struggles at the plate because he's not getting regular at bats. 
Yasiel Puig will sniff 40 home runs
This might seem like a crazy prediction but let's take a step back and look at the situation as a whole. Yes, Puig's career best in home runs is 28, but consider where he is playing half of his games now. Dodger Stadium is a pitchers park and well… Great American Ball Park is as far on the other end of the spectrum as you can get. GABP was built for hitters. Literally. The ballpark was constructed with the idea to play to our strengths and one of the best home run hitters of all time, Ken Griffey, Jr. Ever heard of him? When Griffey came home to Cincinnati the idea was to construct a ballpark that could help him chase Hank Aaron's home run record, which would be great for the city, the fans and baseball as a whole. It didn't really pan out for Junior or the Reds (although saying a guy reaching 630 career home runs is a disappointment would be irresponsible) due to injury and really miserable teams around him. But other players like Adam Dunn, Jay Bruce and Todd Frazier made names for themselves by pulverizing balls into the empty red seats at GABP. I mean, Todd Frazier hit a home run while losing his grip on his bat with pretty much no follow through swing.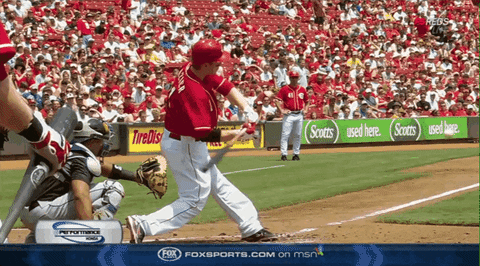 Yasiel Puig will thrive at Great American Ball Park, and I'm hoping to catch a few of his home run balls in my left field bleacher seats. If there are kids sitting around me, be ready for your new Uncle Mac to gift you a pearly white baseball last touched by Mr. Puig's bat. That's just the kinda guy I am.
I don't know if Puig will get to 40, but I would be willing to bet Jeff's paychecks for the rest of the year that he at least makes a run at it. I think settling around 36 would be considered a win.  Anything less than 30 will be a huge disappointment (unless a down year allows us to extend him for really cheap and he becomes the main force of our 4 consecutive World Series titles).
The Reds will have 4 All-Stars
I only said 4 because I couldn't say 8. The MLB won't allow such a thing and they proved that when they screwed America out of seeing the entire Big Red Machine represent the National League in the 1976 All-Star Game. You could probably pick from about 6 possible All-Stars from the current roster, but I'm going to take my stab at the 4 that will make the trip to Cleveland for the Midsummer Classic.
Joey Votto
Eugenio Suárez
Yasiel Puig
Raisel Iglesias
Joey Votto will be an MVP candidate
Look at this guy and tell me he doesn't just ooze MVP candidate.
If you're unaware, idiots that think they know a thing or two about baseball have been pointing to Joey Votto's age (35) and the 2018 season and saying he's on the decline, hence the chart showing he's in the "decline phase" of his career. What does Joey have to say about that? Well..
Did Joey have a sub-par season by his standards? Sure, but the man still led the league in on-base percentage (for the 3rd straight year, which would've been the 8th if not for 2015 when he finished 2nd), was an All-Star and had a nearly perfect fielding percentage at .996. A pissed off, disrespected Joey Votto is bad news for the NL Central and the rest of the posers and shit heads who think they're the class of the National League. I'm looking at you Paul Goldschmidt.
I expect Joey to have a MVP caliber season. Whether or not he wins the MVP will have a lot to do with how the Reds do as a team, but I am optimistic they'll be close enough in the postseason race that he won't be snubbed like he has been in years past.
The Reds will earn a spot in the Wild Card play-in game (and lose)
The second part of that prediction just goes without saying, but I had to put it there for validation when the time comes. The Reds will do everything that needs to be done to earn a place in the Wild Card play-in game (which is the dumbest idea on the planet, by the way) just to lose in heartbreaking fashion. The NL Central is stacked, and all of the experts seem split on whether it will be St. Louis, Milwaukee or Chicago earning the division crown. The Reds have done a lot this off season to bring themselves closer to the pack in a crowded division, but it's still probably not enough to win it. I think 87 wins will be good enough for a Wild Card spot. I just can't wait to see how they blow it.
I will spend $500 on 150th Anniversary apparel and hats
This is a no-brainer and not even a bold prediction. I'm such a sucker for the Reds old uniforms that there's no doubt in my mind that I will be snatching up every piece of memorabilia and throwback hat that is made available. I mean, Look at these beauties and tell me you wouldn't do the same.
They will be wearing these uniforms for weekend series starting in May to help celebrate Cincinnati being the birthplace of professional baseball. The second the 1976 and 1995 hats go on sale, they're mine. The black trim and drop shadow on the hats can get lost, so any opportunity to sport the Reds hat the way it should be (solid red with a white wishbone C), I'm all for it. And while we're at it, let's make a permanent switch back to the 1967 or 1969 jerseys. I will also accept the 1995 uniforms (but with the classic solid red hat). Those are my demands. You have one year.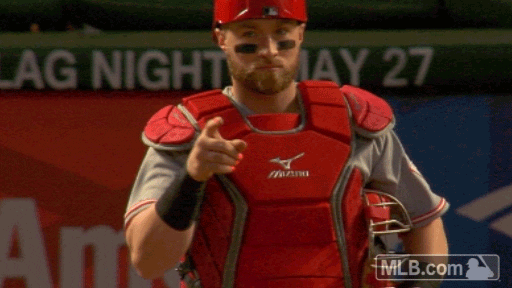 At different points in this blog, I'm sure you agreed, disagreed or flat out didn't give a shit about any of my predictions. Be sure to let me know on Twitter what you thought and throw out a few bold predictions of your own. At the end of the day, the only thing that matters is that the Reds are the greatest franchise in professional baseball history and 2019 is the season we flex on the rest of the MLB with our rich history and traditions.
Go Redlegs, and of course… we're #BornToBaseball
Follow @BennyMacBlog