Tied for the NHL record for points in a season?
Clinched a playoff berth in mid-March?
Won the Presidents' Trophy?
Didn't. Fucking. Matter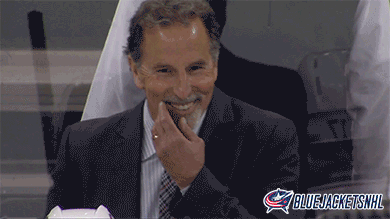 The Columbus Blue Jackets did what many thought was impossible. Nobody gave the Jackets a chance going into the first round of the playoffs, but they sent Tampa packing as the first Presidents' Trophy team to be swept in the first round of the Stanley Cup Playoffs.
I don't really know what to say or do. My hands are still shaking and I feel like I could fill a five gallon bucket with puke. I've never experienced anything like this in my life, and that is really fucking sad. My teams don't do this. My teams are usually the Tampa Bay Lightning in this situation. Heartbreak. Disappointment. Pure anger.
Not tonight. Not. To. Night.
This is why sports are the greatest thing on the planet. I have suffered with minimal sports success for all 33 years of my life. Tonight, a first round playoff series victory, makes it feel like the last 33 years of disappointment never happened.. at least for tonight. Don't worry, I'll go back to being a miserable fuck by the end of the week.
The best part about this series win isn't just the fact that they swept the team created by God himself (if you read anything the national media every wrote). It was the fact that literally every man on the team had their shining moment on the ice. It wasn't like one line got hot and Bob played out of his mind. Bob played great and had key saves when he had to slam the doors shut, but every line and every player had their mark on each of the four games. Not only does that make me feel great about this series, but it gives me hope moving forward.
I hope all of my fellow Blue Jackets fans are enjoying this one. We've definitely earned it and I don't even know how I'd react if I was still in Columbus and in the arena for the game. I'd probably be in jail right now and selling my body for a cellphone someone smuggled in so I could blog this.
The blog game never sleeps.
PS- I've updated my all-time CBJ wins power rankings, and this is #1 until the day I die (or until he hoist the cup, which coincidentally will be the day my liver shrivels up and falls out of my body and I die).
Follow @BennyMacBlog